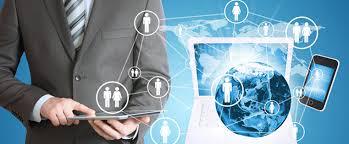 ProFicient, Digital Learning
ProFicient, our digital learning arm which consists of online learning, e-Learning and blended learning. It is one of the types of learning that is facilitated by technology or by instructional practice that makes effective use of technology. It encompasses the application of a wide spectrum of practices including: blended and virtual learning.
Our digital learning strategy at ProFicientincludes any of or a combination of any of the following:
Badging and gamification
Blended learning
Learning analytics
Mobile learning
Online learning (or e-learning)
Virtual reality
From e-learning courses, gamification, webinars to simulations, digital learning has revolutionized the learning industry to such an extent that more and more companies are now opting for digital training and development solutions to train their employees.
There are various factors which prove this fact and here are 5 ways how digital learning benefits an organization as a whole:
1. High Engagement Learning:
E-learning programs often come with a more researched and structured approach to learning. The emphasis is mostly on visuals with the objective to create a lasting impact on learners. Surveys revealed that 40% of learners respond better to visual information than text alone.
High engagement learning comes in the form of simulations, gamifications and real- work situation training where employees feel that they are actually involved in the situation presented in the e-courses. Studies have shown that gamification enhances learner engagement and improves retention. As a result, it becomes easier for employees to apply what they are learning directly in their jobs, leading to more productivity.

2. Cost-effective and Environmentally Friendly:
Let's admit it: traditional learning was in most cases an effective way of learning but let's not forget all the costs it involves. Training your employees in this way can incur a large amount of costs which can affect the bottom line of the business. For instance: expenses in terms of materials, trainers, travel, classroom rentals. The shift to digital learning has not only led to a significant amount of cost reduction but it is also more environmentally friendly. It has proved to be a practical training solution for many organizations who want to reduce expenses and adopt an Eco-friendly approach.
Digital learning involves the use of online services which can easily be accessed by employees without having the trouble to move to other places. The digital solutions at many Learning Academies have been created in such a way that no trainers are required as the content is easily grasped and provided at a fraction of the cost.

3. Personalized Learning Plan:
The advent of digital learning has brought along personalized learning plans where the content is according to the needs of the learners. For instance: Retail Learning Academies provide role-based e-learning solutions based on what the employees need for their roles.
An assessment is carried out prior to assigning the learning program to have an in-depth insight about where the employees need improvement. In this way, they are given a learning plan which is directly linked to their roles. Ultimately they can instantly apply what they are learning on the sales floor. This kind of customized learning proves to be more efficient as employees are being trained not just for the sake of doing so but to enhance their skills and knowledge to be more effective.
According to an IBM report about 'The value of training', every dollar invested in online training results in $30 in productivity. This proves that digital training leads to employee engagement and a higher productivity rate which results in an increase in profitability.

4. Progress Monitoring:
After being trained according to the competences they need, learners can track their progress. This is one of the most useful features that digital learning can offer. Unlike traditional training where trainers and records are required to give a clue about the learner's performance, digital learning proves to be more efficient and a great way to save time. With a simple log in and password, learners can have access to their overall performance. This allows them to have a 360 degrees view on their progress. In this way, they are more motivated to do well to earn their valuable certifications at the end of their programs. The absence of tutors leads to independent and responsible learners.
A survey by McGraw-Hill Education revealed that 77% of learners say that adaptive technology has helped them improve their grades and 48% of students say that technology helps them save time.

One of the main reasons why more and more companies are opting for digital learning is mainly because of its global reach. Global organizations would rather go for digital training to ensure that all their employees are given the same training no matter their locations and cultures. The worldwide accessibility of e-learning allows all the employees to be on the same wavelength as far as training is concerned.
Another major advantage of digital learning is its easy accessibility to the e-learning solutions. Learners can learn in their comfort zone as e-learning materials may be accessible to the workforce anytime anywhere. Unlike classroom training, digital learning allows employees to learn at their own pace in comfortable settings, having a positive impact on retention and the completion rate. This makes it easier for learners from different time zones to get access to their courses anytime. It results in a more engaged workforce; studies have shown that organizations can achieve 18% boost in employee engagement by using e-learning technology.

What's next for our clients and learners?
Although the shift from traditional to digital learning has been a significant one, we believe that ProFicient will provide high effectiveness for our clients and learners.
Powering several benefits in terms of accessibility, engagement and more personalized learning plans; digital learning has been a game changer to improve the bottom line of businesses.